The Great Wave Color Palette
After years of admiring the The Great Wave Off Kanagawa print by the legendary Japanese artist, Hokusai, I realize the colors are just as dramatic as the composition. So I decided to extract a few hues and create a color palette based on the main elements of the design.
I chose colors from the boats, the sky and, of course, the waves.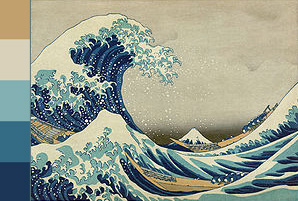 For you web designers and devs out there, here is the HTML hex code for each color of
The Great Wave Color Palette
from top to bottom:
#c1a06e

– dark tan
#d9d1ba – light tan
#82b0b2 – light blue
#346b84 – medium blue
#1a3657 – dark blue
As with all my color palettes you can find this one on ColorLovers.com.
I've also made some Great Wave products on Etsy that you can buy.
Haunted by a legend
The Great Wave Off Kanagawa by Hokusai is probably my favorite piece of fine art. I caught glimpses of it growing up in American culture, but didn't know anything about the work until I studied it in art school.
Turns out the iconic scene is actually a woodblock print and not a painting, and it's part of a series based on that little mountain you can see in the background. For some reason I fell in love with the piece in college when I found a huge poster print version for sale on a table piled with other pop art and cultural icons. From then on, the famous painting followed my through life:
I proudly displayed it in my room during college.
Then I hung it over my desk when I got an office job.
At one point, the image was my desktop background.
A coworker and good friend bought me a sketchbook with the painting printed on the front.
After getting married I brought it home and managed to hang it over our bed… briefly. Something about the imminent death of those sailors didn't sit well with the wife as a pre-bedtime meditation.
For a long time the historic image sulked in my closet. Nevertheless, it lived on as my desktop background.
Eventually, I sold my old poster at a garage sale while raising funds to start a business. As the buyer walked away i thought, "Someday we'll meet again Hokusai."
Years later, after that business was sold, my kids bought me a Great Wave tapestry with the famous painting printed on it. Reunited at last!