Quick Summary:
* Try watching after each step. You may not need to go all the way through the process to fix the problem.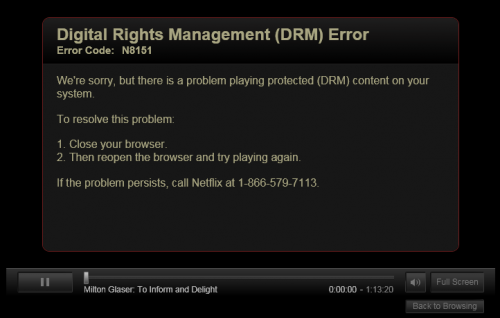 The Troubleshooting Process
This process was recommended by Microsoft Technical Support.
Delete PlayReady folder

Quit all browsers
Browse to Mac HDLibraryApplication SupportMicrosoftPlayReady and delete the PlayReady folder
Restart browser (Safari or Firefox)
Test Netflix again

Uninstall Silverlight

Open you Mac HD
Go to Library
Go to Internet Plug-ins
Drag Silverlight.plugin to the Trash
Go you to you Home Folder
Open the Library folder
Open the Preferences folder
Look for the com.microsoft.silverlight.plist file and move it to the trash
Look for the com.microsoft.SilverlightPlugin.loader.plist file and move it to the trash
Check your Trash to make sure there is nothing you want to keep then empty your Trash
Restart your Mac

Install Silverlight

To manually install Silverlight please follow the steps outlined below:

(Note: when completing these steps make sure you have quit our of all running Applications and that they have not just been minimized to the Dock)

Launch your web browser (FireFox/Safari) and visit Silverlight.net/GetStarted
On the lower right side of the screen you will see Install Silverlight, Choose Silverlight Mac Runtime and allow this to download to your desktop. If the installation automatically launches quit out of it and complete the following steps.
Mount the Silverlight image that is on your desktop
Ctrl+Click Silverlight.pkg
Choose "Show Package Contents"
Open Contents
Copy Archive.pax.gz to Desktop
Ctrl+Click the Archive.pax.gz file that appears on the Desktop
Choose "Open With", BOMArchiveHelper.app or "Archive Utility".
This should extract a folder to the desktop called Library
Open this folder
Open the Internet Plug-ins folder
Copy Silverlight.plugin to Hard Drive: Library: Internet Plug-ins.
Restart your Mac
Visit Silverlight.net and go to Showcase, if you can view this page without being prompted to install Silverlight then it has installed successfully.

Create a new user

If this is unsuccessful there might an issue with your user account preventing Silverlight from working correctly. What we would like to do is test a new Mac user. To create a new Mac user:

Go to System Preferences
Go to Account
Choose the Plus sing in the lower left corner to open the new account window, enter Test for the user name, leave the password blank
Put check mark in Allow User to Administer this computer
Choose Create Account
Now logout out of your original account and login to the Test account
Once in the Test Account visit Silverlight.net and go to Showcase, if you can view this page without being prompted to install Silverlight then it has installed successful
Visit NetFlix to make sure that you are able to access their content.

Contact Apple

If Silverlight works with the new Mac user you will need to contact Apple and have them decide why the original user will no longer allow Silverlight to work.

Check Browser's Rosetta settings

If this fails another suggestion we can make it to check to see if the browser is running with Rosetta enabled. To verify this please follow the following steps. (NOTE: you must quit the browser to follow these steps)

Open your Mac HD
Go to Applications
Locate browser
Ctrl+Click on the Icon and choose Get Info
Under General Make sure the box that says Run using Rosetta is not checked
Launch browser and attempt to launch content on NetFlix

Check for corrupt fonts

If this fails then there might an issue with corrupt fonts within your
operating system that is not allowing Silverlight to load when attempting to access NetFlix content because NetFlix uses DRM formatted content and corrupt fonts can prevent this type of content from loading.

The next step will be to manually install the Arial and Verdana fonts to do so please complete the following:

Go to the Hard Drive
Then Applications
Then Font Book
Choose the Verdana font, and go to File, and Export Fonts. Name the folder Verdana.
Then choose the Arial font, and go to File, and Export Fonts, and name the folder Ariel.
Go to the desktop, and look for these two folders.
Go inside each of these folder, then another folder with the name of the font. You will see multiple folders in here. You will need to go inside each of these folders, and copy all fonts located here to HD>Library>Fonts
Restart the computer.
Attempt to view Netflix content.
How I discovered the Netflix DRM Error N8151
My wife and I decided to sign up for Netflix again. We cancelled several months ago, but after buying a few kids movies on iTunes, we started to miss having access to loads of toddler-taming flicks for the price of one movie purchased from Apple.
Netflix had all of our account info on file. After three clicks I was back. My Instant Queue was stocked with everything I added before canceling. I was ready to sit back and watch a show.
I heard that the recent launch of their new interface design was a debatable attempt to make the site more user-friendly. Either way, I was excited to try it for myself.
I clicked my selection and waited for it to load. Instead of opening credits, I saw this: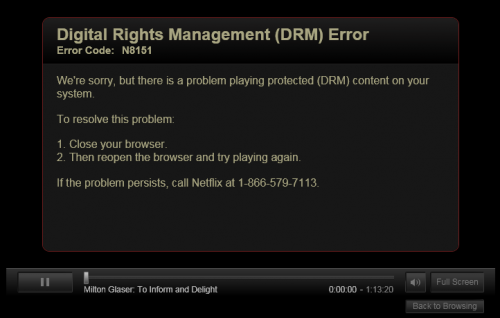 Bummer. Anticlimax. I had seen this error before. During my previous Netflix subscription I had to burn a long evening on the phone with support to fix the problem. The problem was frustrating but fixable, so I wasn't too worried.
Digital Rights, Smigital Rights
After a little googling I found the help I needed.
The error has something to do with Silverlight, a Microsoft technology Netflix uses for their video player. The details of why, how and what circumstances triggered this error do not interest me. I just want the thing to work.
Within a few minutes I found step-by-step instructions from Microsoft Silverlight Technical Support on how to address each possibility.
In my case everything was fixed after trying the first step. The movie cloud was back!
I could simply post a link to the forum where I found all the answers, but then I would have to find that forum if I ever ran into this problem again. So, I'm posting the process here to help myself and maybe others who have a similar problem.
I hope this helps others fix this problem quickly so they can get back to watching their favorite show.